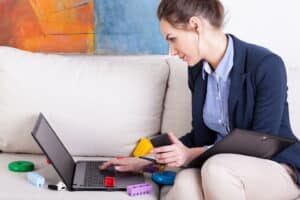 Working from home can be a great gig: you get to wear whatever you want to work, you can choose your hours, and best of all, you can be your own boss. However, it can sometimes be hard to know how it all works. How do you find the right kinds of jobs for you – and if you have a way to find work, how do you sort out invoicing and most importantly, your work at home paychecks?
In this article, we will break down everything you need to know to get a good work at home paycheck, answering common questions on this subject, including:
How to find jobs, and tell if they are legitimate
How work at home paychecks work for those who are self-employed
What taxes you should expect to be withheld, if any
How benefits work
Hopefully we will give you a good starting point, and you will be enjoying that remote work lifestyle in no time.
Is this work at home paycheck legitimate?
There are a lot of online businesses these days that promise the potential to earn people thousands by working from home, but upon signing up they are really nothing more than a cleverly disguised scam. So how do you know which ones are legitimate? Here are some tips for how you can make sure that your work at home paycheck is always safe.
1. Work with trusted companies
Probably the most important thing that you can do when you are looking to freelance is to do research into the companies who might become your clients before you start work with them. This does not mean that you have to only work with companies whose names you recognize already, but it does mean that you should do research before embarking on any projects with someone unfamiliar. Look them up on the Better Business Bureau and various review sites to make sure that they are both legitimate and honest.
2. Work with people you know
One way to make sure that you can always trust your clients and/or potential employers is to work with people who you already know and trust. For example, if you are an interior decorator, you might find jobs through word-of-mouth and friends of friends first and foremost, before expanding your reach elsewhere.
3. Use a well-known freelancing website
There are now a lot of websites online that provide avenues for freelance workers to find jobs of all kinds. However, because there are now so many of these sites sometimes they themselves can be questionable. As a result, it is best to work with well-known sites with proven track records of both providing legitimate work and weeding out scams. While on these sites it is also worth prioritizing those employers with good reviews and avoiding any that may look sketchy.
4. Seek out your own work
Working from home requires a lot of initiative anyway, so why not take it a step further and look for your own employment opportunities? Reach out to potential clients who may have need of your skill set, perhaps provide them with a resume or portfolio of your work, and that way you get to control who exactly you work for and with.
5. Refuse freebies
Occasionally you may come across employers who try to secure your work for free or on a "trial" basis. While providing a sample before starting work is quite common, occasionally dishonest employers will try to get free work this way. Even when providing a sample of your work for a new client, make sure to always charge for it.
6. Be careful with payment
Make sure that everything that you will be doing is agreed in a written statement of work before you start, and make sure that any payment is secure and above board. Never give away your personal information to a client, unless you have been officially hired and they require a W-9 form to be completed.
How do paychecks work?
A work at home paycheck is how you will get compensated for the work that you do for any employer. Even when working on a contract or freelance basis, getting an official work at home paycheck is important for tax purposes. While it used to be a fairly drawn-out process to get this done, you can now build an online paystub in minutes. If you need help decoding your pay stub, you can read more here.
What do you do if you pay too much on a paycheck?
A big part of why it is so important to have a paycheck is so that you can view which taxes are being withheld each time. This is also why it is important to carefully look at your paycheck each time to make sure everything is above board. If you believe that too much may have been deducted from your paycheck in error, contact your employer immediately. You can use a paystub calculator to verify that the amounts are correct (or incorrect, as the case may be).
Do they take more taxes out of your first paycheck?
You may be surprised at how much has been taken out of your first paycheck, but it should not be more than is legally required, and should not be more than at any other time. If you are curious about what the various deductions are for, or want to double check that everything is right, you can read a breakdown of them here.
Do benefits come out of your paycheck?
Since you are working from home, there is less of a chance that you will be receiving benefits from your employers. However, there are employers who allow work from home, and as such you might have certain benefits that are included with your employment. When this is the case, occasionally employers will provide something such as dental insurance for example, and rather than covering your entire monthly premium they will cover just a part of it and you take care of the rest. When this is the case, it is common for it to automatically come out of your paycheck once a month.
Sometimes, when you work at home, paychecks can be confusing. However, the process of calculating and creating pay stubs is easy with Check Stub Maker. Get started on yours, and have pay stubs ready to use in minutes.